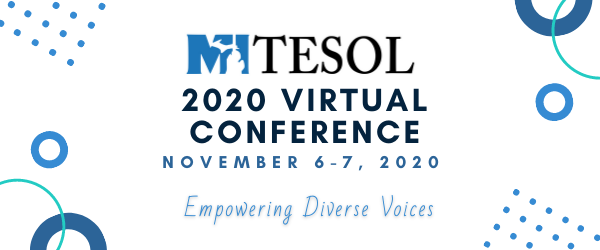 Empowering Diverse Voices
November 6-7, 2020
Virtual Conference
Our conference has moved to a virtual setting. We are excited to safely offer our annual conference to our members. Please stay tuned and visit this page for important 2020 MITESOL Conference updates.
How to Navigate the Conference Portal
Watch the video below to see the Conference Portal and how you can navigate through all the available content. The video is 16 minutes long, but you can click the gear icon (lower right) and adjust the playback speed to 1.25x to 2x the normal speed to get through it faster, if you like. If you have any questions about the Conference Portal setup, please send an email to info@mitesol.org. We look forward to having you at this event!
Download a PDF Flyer Here
Want a sneak peek of this year's program?
There is Still Time to Register
Become a member to save on registration!
*For new or renewing members, the registration fee includes a 1-year membership from purchase date.